Fife Flyers coach Todd Dutiaume praised his team's character as they clinched the Gardiner Conference title in dramatic fashion on Sunday in Dundee.
The Kirkcaldy side won their first ever silverware since joining the Elite League in 2011 after a weekend that saw them win all three games and post six points.
But after going 6-5 behind with 45 seconds to go, and then going on to win the game 7-6 in overtime against the Stars, Dutiaume hailed the character of his men.
"With 45 seconds to go, it's heartbreaking to see you lose your lead and go down one," he said. "But the players we have are here for that reason, to show that kind of character.
"They (Dundee) almost made us pay the ultimate price, but the boys came good in the end and it's well deserved.
"We've fought hard in this Conference this year and I have to commend the owners of the club, who let a rookie coach take this team at this level and learn on the job.
"There's been tough times, but they believed in the process and you only need to see the roof at the rink to see the history of winning this club has with the banners up there.
"Since we joined the Elite League, there's a seven-year gap and now we can fill it."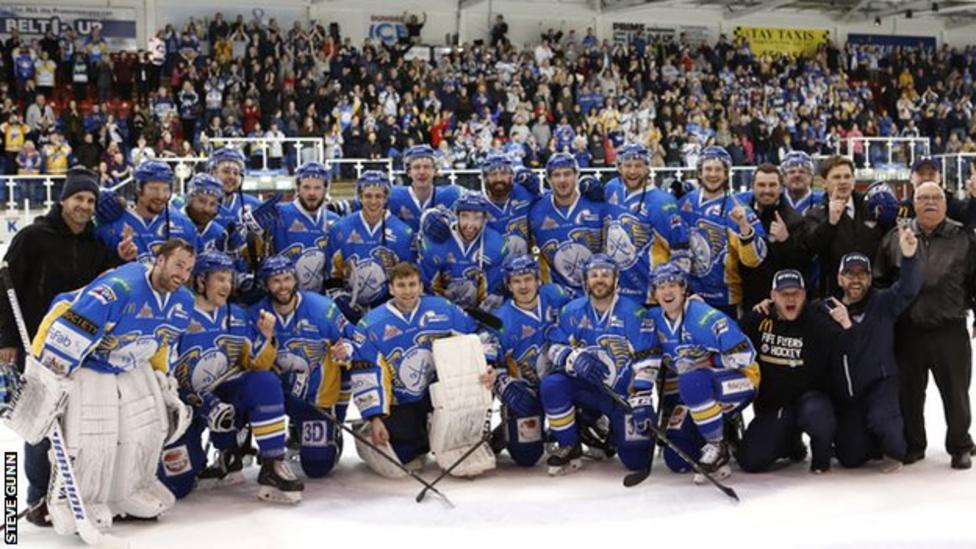 Fife approached the weekend needing at least five points to clinch the title.
They won 6-3 at Braehead Clan on Friday, going 3-0 up through Shayne Stockton, Liam Heelis and Chase Schaber before Cameron Burt got one back for the Clan.
Peter LeBlanc made it 4-1, with Jacob Doty adding another for the home side, only for Carlo Finucci and Danick Gauthier to seal the win despite a late strike from Clan captain Ville Hämäläinen.
Back home in Kirkcaldy on Saturday for the first of a double-header against Dundee Stars, the Flyers romped to a 7-0 victory.
Schaber picked up a hat-trick, with Gauthier adding two and Finucci and Heelis one each as Fife went into Sunday's rematch in Dundee needing a point.
And they got it, albeit the hard way, with a 7-6 overtime win to clinch the Conference title and complete a phenomenal six-point weekend haul.
LeBlanc and Gabriel Levesque cancelled each other out in the first before Fife kicked on and opened up a three-goal lead through a Stockton double and one from Gauthier.
Dundee hit back through Marc-Olivier Mimar and Omar Pacha to cut the gap to one, but Gauthier's second made it 5-3 with Jimmy Jensen adding another for Dundee.
Two Stars goals within a minute from Chris Lawrence and Lukas Lundwald Neilsen put Stars ahead in the last minute of regulation time.
But Charlie Mosey scored with 16 seconds left to take the game to overtime, where new signing Dan Correale grabbed the winner to confirm Fife as the Gardiner Conference winners.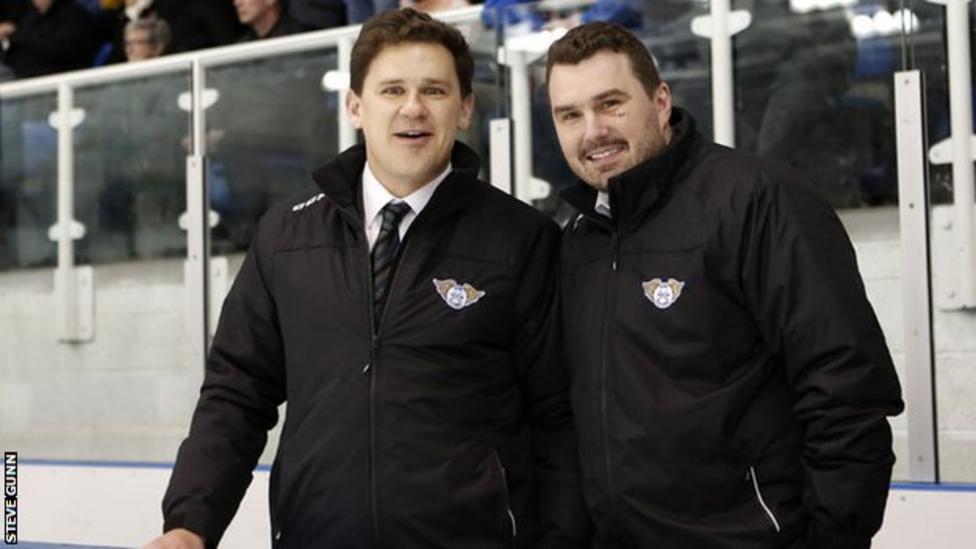 After Friday's loss to the Flyers, Braehead Clan hosted Coventry Blaze on Saturday and got the best possible start when Tyler Scofield scored after nine seconds.
But Coventry turned it around to take the points in a 3-1 win as Ben Lake, Ross Venus and Marc-Olivier Vallerand all netted.
Braehead headed to Nottingham Panthers on Sunday and despite coming back from a 3-0 deficit, ended up losing 4-3 in overtime.
Panthers went ahead through David Clarke, Brett Perlini and Luke Pither, but Clan clawed their way back in the third period through Doty, Scofield and Landon Oslanski.
However Yann Sauve struck in overtime to seal victory for Nottingham, leaving the Clan beaten for a third time in three days.
Edinburgh Capitals got their weekend off to a great start when they stunned second-placed Belfast Giants with a massive 4-2 win to end a 10-game losing run.
It was level after two periods with Igor Valeyev striking twice for the Caps, but further goals from Ainars Podzins and Dillon Lawrence clinched a surprise win for the visitors.
After beating the second-placed team, Edinburgh faced league leaders and current champions Cardiff Devils at Murrayfield on Sunday.
But it was a different story as Mike D'Orazio's side were thrashed 10-2 by the Welsh side on another disappointing night, two goals from Dylan Anderson the only highlights.
WEEKEND RESULTS (all league games unless stated)
Friday
Braehead Clan 3-6 Fife Flyers
Saturday
Belfast Giants 2-4 Edinburgh Capitals
Braehead Clan 1-3 Coventry Blaze
Fife Flyers 7-0 Dundee Stars
Sunday
Dundee Stars 6-7 Fife Flyers (OT)
Edinburgh Capitals 2-10 Cardiff Devils
Nottingham Panthers 4-3 Braehead Clan (OT)